August 24th, 2015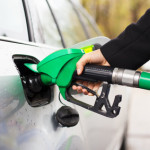 Britain's leading supermarket fuel retailers look to be on course for a price war on fuel and some experts predict that prices may drop to below £1 per litre.
Tesco, Sainsbury's, Asda and Morrisons all reduced fuel cost by 2p a litre over the past weekend. Asda have diesel at a guaranteed 106.7p per litre, which is cheaper than unleaded which will cost no more than 109.7p nationwide.
Brent crude oil is now almost 25% cheaper than it was 2 months ago and is just half a dollar from being the lowest price this year. To see the latest oil prices please click here.
Experts predicted that if crude fell to under $40 per barrel than the prospect of the sub £1 per litre will make a return, today it closed at $39 per barrel so all eyes will be on the retailers to see who reacts first.
With the strong pound and falling oil prices, this is all great news for the British motorist.
August 10th, 2015
It has been 12 years since the first generation Volvo XC90 last scooped the award, the 2015 model has taken the Auto Express Car of the year.
Volvo has created a car with stunning looks inside and out but the judges were blown away by the really impressive interior design. The XC90 ouzes class and has room and style in abundance and it benefits from well weighted steering, composed handling and impressive safety kit.
There is a choice of petrol or diesel engines and you get an impressive mpg on all models. The D5 diesel offers 225 hp and great fuel economy at an impressive 49.6 mpg using 8 speed geartronic technology, but it is the flagship T8 Hybrid that stands out with 407hp and 134.5 mpg from the new twin engine model. Full specification details can be seen on the Volvo website.
Getting a quote on line couldn't be easier. Such good value is not to be missed. This breakdown help is less than one quarter of what I have paid for several years, yet gives the same cover.
I hope I will not need to use it, but if I do I feel confident I will get the help I need.