August 24th, 2015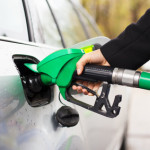 Britain's leading supermarket fuel retailers look to be on course for a price war on fuel and some experts predict that prices may drop to below £1 per litre.
Tesco, Sainsbury's, Asda and Morrisons all reduced fuel cost by 2p a litre over the past weekend. Asda have diesel at a guaranteed 106.7p per litre, which is cheaper than unleaded which will cost no more than 109.7p nationwide.
Brent crude oil is now almost 25% cheaper than it was 2 months ago and is just half a dollar from being the lowest price this year. To see the latest oil prices please click here.
Experts predicted that if crude fell to under $40 per barrel than the prospect of the sub £1 per litre will make a return, today it closed at $39 per barrel so all eyes will be on the retailers to see who reacts first.
With the strong pound and falling oil prices, this is all great news for the British motorist.